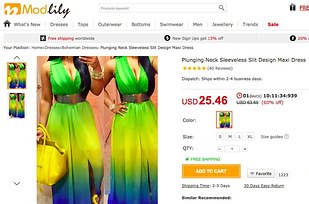 ModLily
If you're a woman on Facebook, there's a good chance you've seen this kind of ad before: a gorgeous dress or a flattering top, from a website you've never heard of, for just $11.99, or some other too-good-to-be-true price.
It has a Facebook page with perhaps millions of likes, zero to few complaints, and professional-grade graphics featuring models or celebrities like Katy Perry. The page posts links to its website every few hours, accompanied by pictures of women in stylish outfits.
But you're unlikely to end up with anything close to what the pictures promise. They're merely an entry point for thousands of women who have lost money to an opaque group of Chinese clothing companies in recent years, operating under a trove of names like Zaful, SammyDress, DressLily, RoseGal, RoseWe, TideBuy, Choies, and RomWe.
While the sites and their products may seem like small fry, the money involved is anything but. Analysis by BuzzFeed News shows that at least eight of them are connected to one Chinese e-commerce company that made more than $200 million in sales in 2014. That same year it was acquired by one of China's best-known clothing companies, a publicly-listed giant run by one of the country's richest men.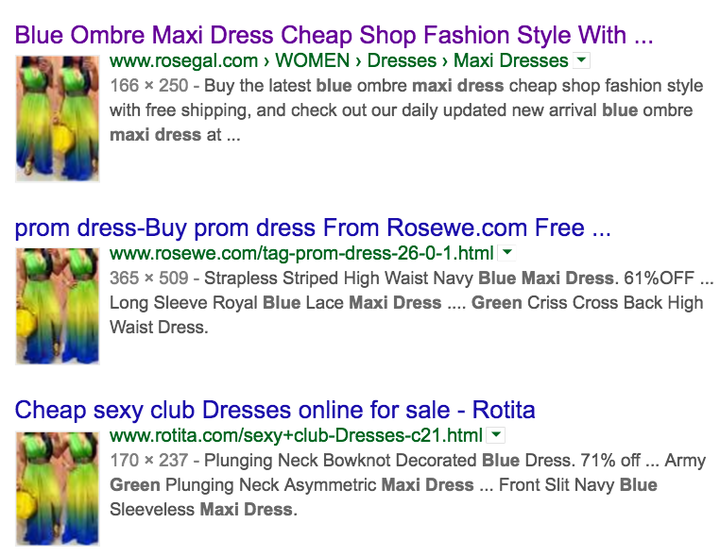 Pascale Rowe / Via Google.com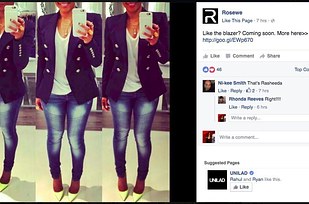 Scam
Bolstered by stolen images, aggressive ads, and images of security certificates from places like PayPal and Norton Security, the sites regularly sucker consumers into buying clothing straight from China — and it often bears little resemblance to pictures they saw online.
If and when the garments finally arrive, shoppers say they're frequently small enough to fit children, their color is off, and they are made from flimsy materials. Sometimes they smell like chemicals. Customer service, typically located in China, is barely reachable, especially when it comes to returns and refunds.
This isn't news to many: While there are some satisfied customers out there, thousands of complaints about such sites have piled up on TrustPilot, SiteJabber, and the Better Business Bureau's website, and more have been lodged with the Federal Trade Commission. Multiple Facebook groups have been created to warn other would-be consumers, and some news outlets have tested the sites for themselves, experiencing the same poor results. BuzzFeed has also posted about these sites.
But the sellers keep thriving, especially on Facebook, where the social network's loose policing and massive scale make it the ideal place to target women looking for a deal.

"They use a pretty prolific advertising mechanism with Facebook, and in terms of Facebook's own responsibility for that, they sort of have thrown up their hands and said, 'We don't really have anything to do with our advertisers as long as they're following our policies,'" Jasmine Griffeth, a 31-year old online content and marketing consultant in Calgary, said in an interview.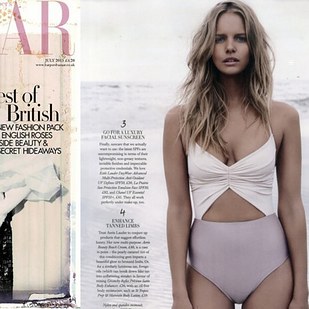 Harper's Bazaar
Griffeth bought a coat from DressLily last fall after seeing an ad for the site on Facebook. Six weeks later, she received a thin, cheap garment in a lighter color that was "way smaller" than product measurements advertised online. It took months of back-and-forth with the company and PayPal before she was able to get her money back — though she was lucky to get a refund at all, based on experiences shared by other consumers.

One reason such companies can so routinely take advantage of people using Facebook's infrastructure is that the social network's policing of users and advertisers is limited to what happens on the service — its monitoring doesn't extend to bad experiences users have once an ad click takes them away from the site.
Facebook, in conversations with BuzzFeed News, said its rules around ads and pages are far more focused on language and images, and noted its policies prohibit stolen pictures and "deceptive, false or misleading content." But those haven't stopped advertisers from pilfering images from across the web, including from Instagram, which Facebook owns, and using them to bait-and-switch users into buying poorly made imitations.
The subpar retailers don't set off copyright infringement alarms either, with most selling garments under generic names like "scoop collar sleeveless floral print" dresses and "chic lace designed hollow pencil jeans," rather than using protected brand names like Nike or Gap.
They game Facebook in other ways too: Many delete negative comments and posts on their pages, and some even post bogus customer service phone numbers and contact info, which isn't an actionable offense.
Allison Swoboda, the owner of a shop called Allison's Formal Dresses in Clarkston, Washington, regularly sees disappointed, sometimes tearful high school girls come in to her store after buying prom or homecoming dance dresses from such sites.
"Some of the girls actually bring in the dress to show me, and one of the dresses that was purchased from BeckyDress.com, it smelled so bad I had to ask her to take it out of the store," she said. "Did you ever take biology? You know how when you have to dissect the pig or the frog and it smells like that nasty formaldehyde? It smelled like that."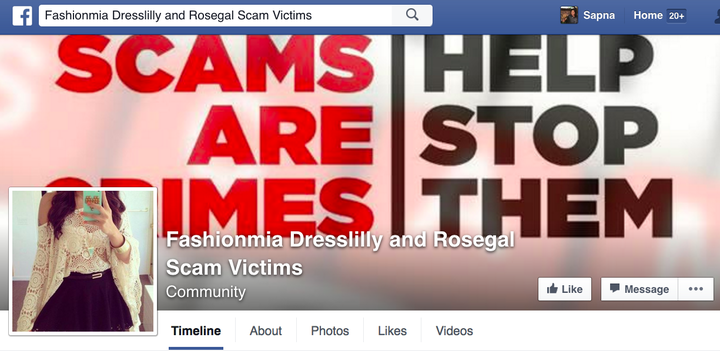 Facebook / Via Facebook: Fashionmia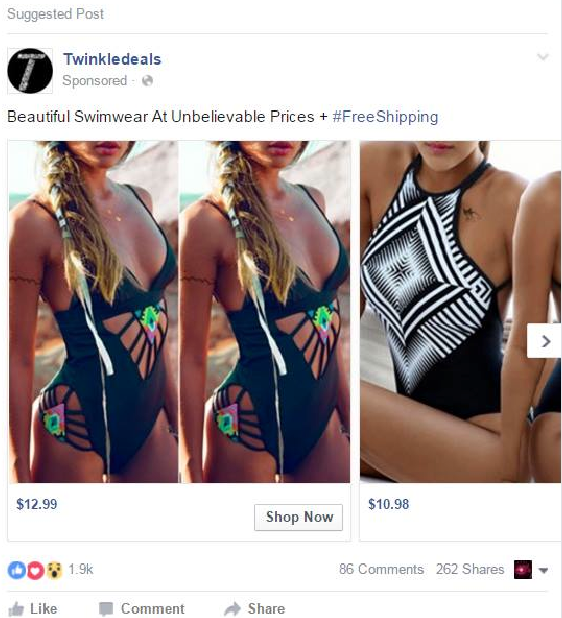 Via facebook.com
ShenZhen Global Egrow E-Commerce Co.
At least eight of the sites drawing fraud accusations — DressLily, RoseWholesale, RoseGal, SammyDress, Zaful, Nasty Dress, TwinkleDeals, and TrendsGal — are tied to the same publicly traded company in Shenzhen, China, BuzzFeed News has learned based on U.S. and European trademark filings and registration history data accessed via DomainTools.
Its name is ShenZhen Global Egrow E-Commerce Co., or Global Egrow.
The same email address, Admin@GlobalEGrow.net, is connected to those sites and another 41 domains, including toy and electronics sellers like VolumeBest.com and GearBest.com.
The company, founded in 2007, has grown rapidly since then to more than 1,000 employees, with sales passing the equivalent of $200 million in 2014, according to its website. A well-known public Chinese clothing company called Shanxi Baiyuan Trousers bought it that year for about $166 million, which is how Global Egrow became public, Forbes reported.

Forbes placed the combined company's chair, Yang Jianxin, on its "China Rich List" last year, pegging his net worth at $850 million. It's a major achievement for a man who, according to China Radio International, started off as a street vendor selling socks and pants in his home province of Shanxi and founded Baiyuan, which means "100 yuan pants," in 1995.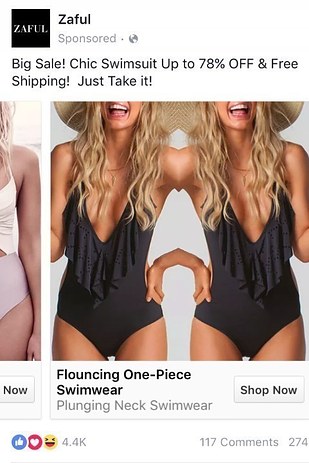 Facebook Ad
A video uploaded by the company to Youku, a Chinese streaming site, describes Global Egrow as a bold and successful pioneer within the world of e-commerce, showcasing its bright, young Chinese workforce in a sparkling office environment. A voice narrates in Chinese with English subtitles: "Through the analysis of products' market demand and customers' purchasing behavior, we look for qualified hot products required by overseas customers... We achieve the glory with innovations and fill the world with smiles."
The narrator cites "multiple favorable national policies" supporting "online trans-boundary export retail," adding that Global Egrow promotes and glorifies "the brand of 'Made in China'" around the world. It was uploaded nine months ago.
BuzzFeed News attempted to contact Global Egrow's executives or PR department, but wasn't able to get beyond their receptionists. Multiple emails in both Chinese and English to addresses listed on its website received no reply. A woman named Ms. Ren, listed on the company's website as its contact for clothing investments, told BuzzFeed News by phone that she's not aware of any customer complaints and would ask her supervisor for feedback.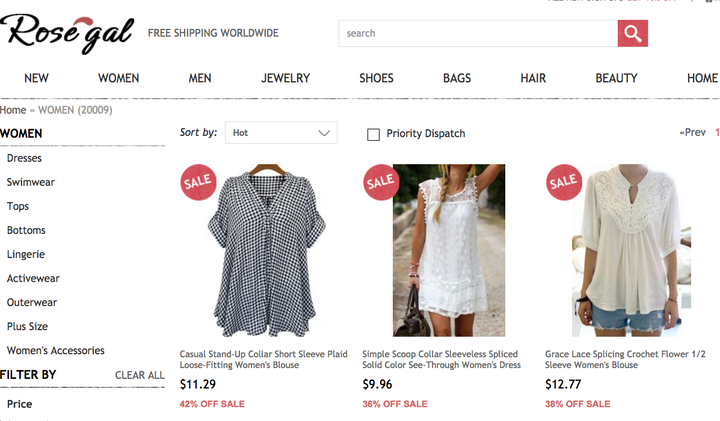 RoseGal / Via rosegal.com
The Case of @MsBlingMiami
The Chinese companies are known to some American Instagram stars as prolific photo snatchers. Pascale Rowe, a 39-year-old motivational speaker and fashionista who's better known as @MsBlingMiami, came to our attention after one of her nearly 500,000 Instagram followers mentioned her under a photo on ModLily's Facebook page. ModLily (965,000 page likes, with a Shanghai address) had ripped off a photo of Rowe posing in a green and yellow dress, edited out her face and information, and claimed to be selling the dress she was wearing for $25. The photo is even on ModLily's website, but she didn't see it until we emailed her.
Rowe was frustrated, but not surprised.
"This happens more often than you can imagine," she said, adding that she could name at least 20 similar instances, mostly involving Asian "Alibaba type" sellers. The companies go so far as to remove watermarks from her selfies and mirror shots, she said, leaving no trace of the @MsBlingMiami name or her tagline, "The Million Dollar Mouth."
Rowe isn't on Facebook, so she only learns of such theft when people DM her or make note of them in her comments. While Facebook has a help page explaining how even nonmembers can report copyright infringement — complaints must come from the copyright owner — Rowe wasn't aware of that when we spoke. (The Facebook page warns users twice that such reports are "a serious matter with legal consequences" and, in an FAQ, suggests trying to reach out to offenders directly instead.)
"If I say something like, 'Please remove my photo,' or you know, 'It would have been nice to have that permission from me,' ... when I bust them, they block me," she said. When fans do recognize her photos, they sometimes believe she's working in partnership with such sites — some even buy items and then complain directly to her about low-quality products.
"I don't mind if a company says 'Get the look like Ms. Bling,' steal her look, but don't say you're selling Ms. Bling's dress," she said. "Don't tell people that I got it from you, and don't act like I'm wearing your piece, because it could be totally different. It's false advertising."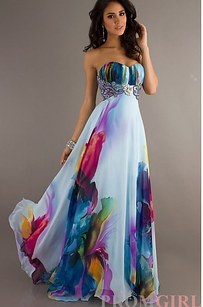 PromGirl
Facebook "takes intellectual property rights seriously and we work quickly to remove infringing images when they're reported by the person or organization who owns the rights," a spokesperson said in an email. "If a rights holder sees their image being improperly used on Facebook, they can file a complaint using this link and we will promptly evaluate and take the appropriate action."

The strange interconnectedness of these sites — there are more than 18 facing similar complaints — is easily illustrated by right-clicking on the stolen @MsBlingMiami photo on ModLily's site and selecting "Search Google for Image." The same image pops up on RoseGal, SammyDress, and other sites unaffiliated with Global Egrow, like Rotita and RoseWe, all without her permission. This pattern emerges again and again with photos across these sites, including with screenshots of Facebook ads and page posts, suggesting the companies are looking to replicate similar items.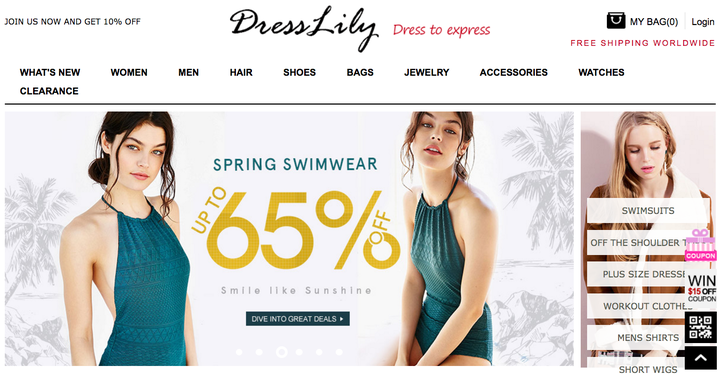 DressLily / Via dresslily.com
In another case, PromGirl, a U.S. company that sells prom dresses, sent a copyright complaint to Google after one of its photos was stolen by the China-based sellers. The complaint lists 153 different infringing URLs that were using its picture of a model in a long, expensive gown, including DressLily, NastyDress, TwinkleDeals, and TrendsGal. As is typical, the sites cropped out the model's face as well as PromGirl's watermark.
As of March, RoseWholesale was still using the picture on its website, offering the dress for $10.30; SammyDress was selling it for $10. Floor-length dresses from the same designer cost at least $350 at PromGirl's website.

Searching the image on Google, the same thing shows up on: AliExpress, Twinkledeals, Romwe, SheIn, Fulchic, SammyDress, Tidestore, BoBuse, DressLilly.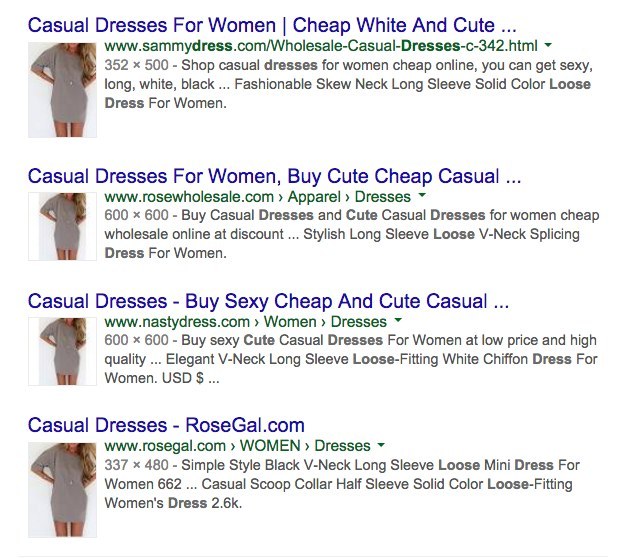 Google / Via Google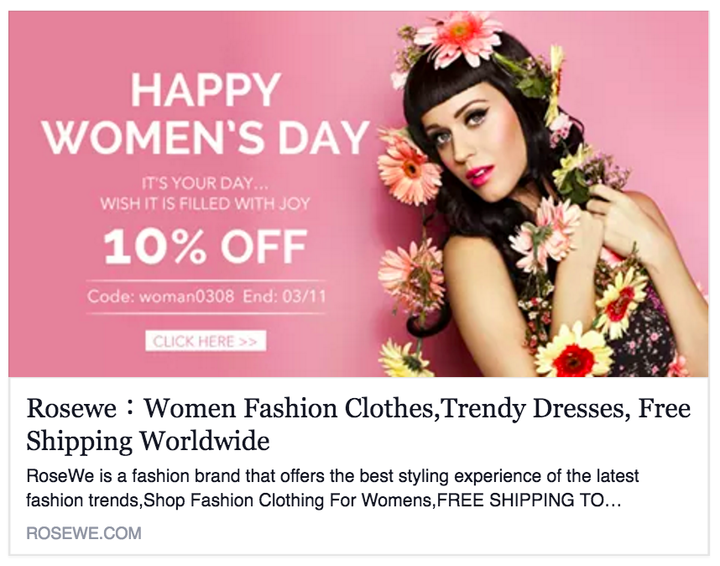 Rosewe used Katy Perry in one Facebook post.
rosewe / Via facebook.com
"It Almost Made Me Want to Just Shut Down Facebook"
Getting ripped off by an advertiser on Facebook can be a rude awakening for some users, who have come to see the social network as a more carefully policed and controlled environment than the Wild West of the internet. Facebook has worked aggressively to keep its walled garden clean in recent years so users and advertisers can feel safe — it has cracked down on porn, private gun sales, and at least some fake likes. It has stringently enforced a "real name" policy, even as that caused problems for transgender performers, political activists, and Native Americans. In its haste to police nudity, Instagram has ended up deleting pictures of mothers breastfeeding and selfies of plus-size women.
But that vigilance apparently has limits.
"Facebook needs to be a little stricter about who they let advertise," said Lisa Little, a 48-year-old computer programmer from Massillon, Ohio, who had a bad experience with Rosegal after discovering it through a Facebook ad. She added that allowing ads from companies that operate like Rosegal and its ilk "seems icky. It almost made me want to just shut down Facebook."
Griffeth took it one step further: "By allowing these advertisers to sell their counterfeit goods and scam Facebook users, Facebook is complicit in accepting money from this scam ring," she said.
---